A Place with Heart in the Heart of Woodstock
Our Teachers

Anna

Corinne

Danika

Jenny

Kristin

Laura

Martha
---
Kristin Jay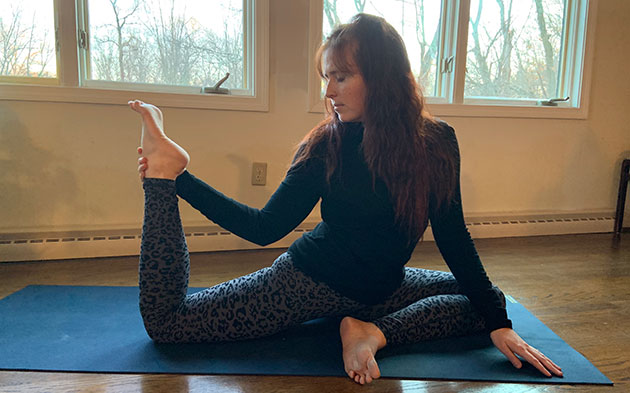 Kristin Jay has a PhD in psychology, specifically in cognitive neuroscience, which is the study of the biological basis of sensory-perceptual experience and mental processes such as attention, memory and language. Within this framework, as a college professor, she has studied and taught about mind-body relationships for more than 10 years.
Seeking balance in her life, Kristin maintained a personal yoga practice for many years, but as her career intensified, so did her desire to understand what she was teaching about (consciousness) through her own experience—rather than abstractly, through reading and talking about it. This, and her background with ceramic art, quite naturally led her to the study of massage; on a sabbatical from teaching, she pursued bodywork training and is now a practicing Licensed Massage Therapist focusing on myofascial release, craniosacral techniques, and generally, the energy systems of the body.
Around the same time her world was opening up to bodywork, Kristin's yoga practice slowed way down (or, perhaps she finally started to realize what yoga was all about) and she spread out into the delightfully mysterious and surprising worlds of yin yoga, yoga nidra, and meditation. The experience of learning about and practicing in these areas has been transformative for Kristin's body, social world, understanding of the world around her, and sense of self. Kristin now uses her voice to guide practices of inner connection as a yoga instructor, bringing her interdisciplinary background to her classes.
She is honored to hold a space for people as they listen and feel... intending to support the compassionate and honest communication that occurs inside people as they deepen their relationships with their bodies, emotions, minds, and the simultaneous, curious state of not entirely being any of those things after all!